TESTIMONIALS
2019 - August
"As a person of colour I have experienced systemic racism either directly or indirectly. I am very proud that I go to university as an exchange student.
I was shocked and disappointed when I was singled out for a personal insult by a police officer at the campus of the University of Sydney in April 2019. At the time I was outside my student residence and concerned about police closing down an authorised student celebration going into the Easter Holiday break.
I was arrested and charged with two public order 2 offences.
Thomas carefully listened to my instructions and viewed the video of the police conduct and my reaction.
I was due to fly home in a few weeks as funded by my school back home so I had limited legal options as far as due process or appeal rights.
Thomas organised representations to police on the facts in my matter, and a sentencing 5 days before my pre booked flight home. He also drafted a sworn statement outlining my personal circumstances and for pro bono counsel Rose Khalilizadeh of Forbes Chambers, who is an alumni of Uni of Sydney, to appear for me on the day.
The Magistrate was impressed with my personal references, youth, education, clear record and personal explanations. She accepted that I reacted to police action that triggered memories of extreme events back in my home country, and that arrest by police there can go from a trivial matter to life threatening. As a result I was given a conditional release order without conviction and ordered to pay court costs of $251.
I am grateful for the legal service provided by Thomas. This was a weight off my shoulders and allows me to continue with my career in the caring professions where I believe I can help many other people and fully realise my potential."
2019 (July)
"Thanks so much for all your help, it is a huge weight off my shoulders. So happy about this result."
Mosman resident, after $4K judgement against taxi driver in the Local Court in Sydney after originally facing $6K demand by taxi company for roundabout car accident
2019 (March)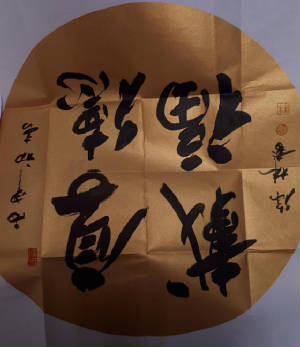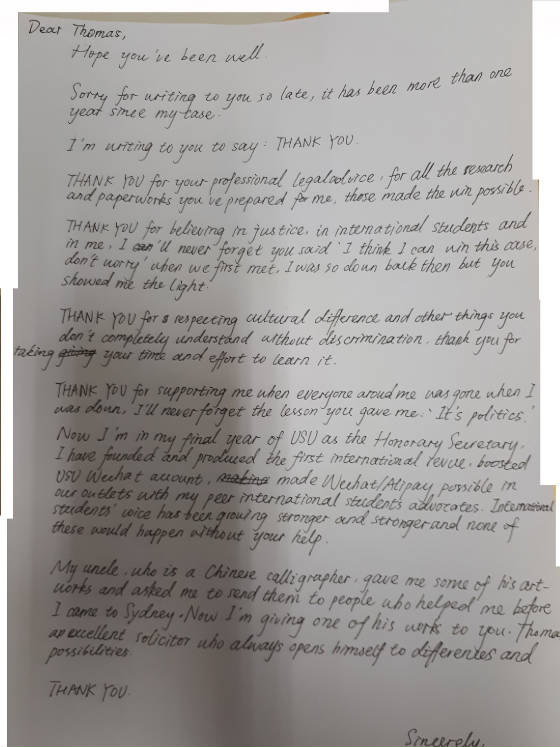 2018 (November)
" Hi Thomas, it's XXXX here. I am planning to have lunch with you and another friend who suggests me seeking [your] help to celebrate the success of my case at Din Tai Fung (a Yum Cha restaurant) at Central Park Shopping centre level 2 at 1 .... All the best wishes to you. You are an excellent solicitor .... l just received the payment from USYD. Thank you very much! ... Will we be able to have a lunch celebration at any time when you are available (either Tue or Fri) before this semester ends ? "
October 2018 - Grateful Chinese international grad student with successful $10K consumer claim for deceptive conduct by education service provider.
2018 (October)
"Thomas was sensitive and very helpful in winning my legal matter. He organised pro bono counsel, expert evidence, other legal supports. He dealt with police and the court procedures in a complex and unusual case including medical history. I was able to re-group and return to my studies after serious set backs most people would never have to cope with. Thankyou Thomas!"
2018 (March)
"I am suffering a life threatening illness involving dialysis, muscle fatigue and mobility issues. I have worked as a police officer in the past - in another country - and am a religious person.
I was arrested by police on public transport when I got into an argument with the bus driver for failing to stop at my bus stop causing me great distress. Then another passenger berated me for stopping the bus which made things worse. I just felt very victimised about my situation.
Thomas was very compassionate and insightful. He made representations to police and organised a meeting with expert counsel, Ms Julienne Levick at Ada Evans Chambers. He drove me home from the court. He organised medical evidence from my specialist as to my very serious health challenges and my legal team put the best position forward to the magistrate at Bankstown.
The judge agreed to a good behaviour bond without conviction."
2015
Email from legal intern - Vietnamese Australian law graduate - who now works (2019) as an associate in a top 10 law firm in Sydney:
"Hi Thomas,
I hope you have had a good day so far!
I was just wondering if I could pop in some time today or tomorrow with my ANU legal work experience form for signing off. I've filled everything out - the only part left is the signing off and submitting it to ANU for approval.
Your supervision of my legal placement has been greatly appreciated and it really helped boost my confidence in my Compliance interview with [big Sydney based finance company]. I can honestly say that i might not have gotten the role without the work experience I gained at SRC Legal, so thank you for everything you have done for me Thomas.
Kind regards ...."
2012
"Top qualities: Expert, Good Value, High Integrity"
I recently hired Thomas for a legal matter. I am pleased and satisfied with his thorough research, excellent advice and professional work. I have known Thomas as a friend and colleague for 20years, and consistently found him to be very dedicated, hard-working, ethical and honourable. In my experience with lawyers, these are very rare qualities, that makes Thomas' work outstanding in his field." November 5, 2012
Tony Hastings, friend and client in late 2012, resident of the NSW South Coast.
"Thomas is thorough and meticulous in his analysis. He is an organised and dedicated lawyer." December 9, 2012
Shreeya Muthusami, former colleague at SBA Lawyers, and now A/g Assistant Director at Department of Broadband, Communications and the Digital Economy, Canberra Area, Australia · Legal Services
"Thomas and I were committee members on the Botany Bay and Catchment Alliance in Sydney representing over 30 groups. I found Tom to be hard working, friendly and cooperative with a keen interest in promoting a sustainable Sydney. He also demonstrated a strong background knowledge regarding media, and local, state and federal government issues."
Lynda Newnam, Management Committee Member, Botany Bay & Catchment Alliance, Sydney 20 December 2012
2013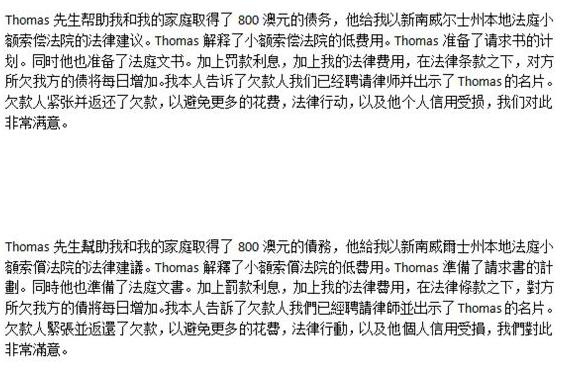 2013
"Thomas helped me collect a $800 debt for my family. He told me the legal solution at the Small Claims Division of the NSW Local Court. Thomas explained his low cost and small Court fee. Thomas made a plan for a Letter of Demand. He also planned Court papers for the debt, plus penalty interest (10%), plus my legal costs. The debt to my family would get bigger every day under the law. I told the debtor myself that we had a lawyer now and showed Thomas's card. The debtor got nervous. The debtor decided to pay the debt to save paying even more money, avoid Court, and keep his credit record. We are very happy."
Chinese student client, Eastwood Sydney